We women know we can perform incredible tasks on our own, but it's more fun if we have a buddy, right? Accountability and collaboration can make a big difference in our productivity. Have you noticed how clean your house gets when you're multitasking while chatting on the phone?  And watch us women solve the world's problems while we're sipping coffee!  This is the first of many reasons financial coaching works so well.
Financial Success = 80% Behavior + 20% Head Knowledge

"Behavior, intelligently viewed, takes into account the emotional, relational, the family history, the socioeconomic impacts and the spiritual.  To ignore any of these while discussing behavior change about money is incomplete and very naïve."

~ Dave Ramsey – Total Money Makeover
I've watched clients pay good money for financial advice they never followed. Even I have failed to actually do what I knew I should.  Then it dawned on me, if I'm really going to help people become financially healthy, I  need to not only give them good advice, I need to address the elements that contribute to their money behaviors.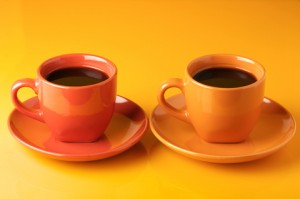 So I became a financial coach. In my experience it's the most effective approach in transforming someone's approach to money.  As a Certified Financial Planner™, I've passed the tests to certify that I have all the head knowledge I need to help clients become financially successful.  But first, I needed to change in more personal ways to take control of my own finances which seemed to make decisions for me despite my best laid plans.  I needed to stop sticking my head in the sand, I needed to gain the strength to attack my financial troubles head on, I needed to take my dollars by the horns and prove who was boss.  I had some wise women in my life who coached me along, and I am passionate about doing the same for other women.
Unlike most professionals in this industry, I can serve those who are not (or not-yet) upper class. You don't need assets under management to become one of my clients.  You don't need a minimum investment, or any investment, to begin improving your financial wellness. Right now, you need the specific financial education that applies to your situation (the 20% mentioned above), and the insight of a coach to conquer the other 80% of the financial success equation. Together we will determine which of your financial behaviors should be maximized, and which tendencies should take a back seat.
Click here to learn more about the top 5 reasons I'm the best financial coach you can find. In the mean time, here are some points to consider: 
I will help you become more financially healthy. I am not selling secrets or financial products. That means there are no conflicts of interest as I coach you to a place of greater wellness.
I tailor your financial goals to your greatest area of need, and do what it takes to grow your confidence and inspiration to achieve those goals.
I rely upon evergreen financial principals, because we don't know exactly what the world and your life will look like years from now. I don't believe in fads, but will take into consideration the trends that do matter: the patterns of your own money behavior.
Click here to learn more about my services. Or check out this application for a complimentary financial coaching session so you can see how coaching can propel you to improve your financial wellness and increase your financial peace.